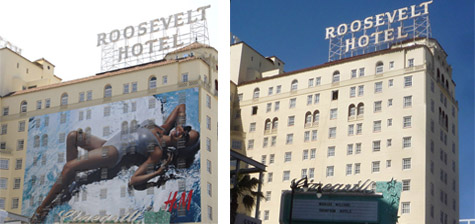 During his 2009 election campaign, City Attorney Carmen Trutanich promised to crack down on anyone putting up illegal billboards and supergraphic signs. Continuing to make good on that promise, his office has gotten the owners of the Hollywood Roosevelt Hotel to remove the latest in a series of illegal supergraphics that have covered the walls of the historic structure for the past four years.The sign removed advertised the Warner Bros. movie, "Clash of the Titans" and was installed last month by In Plain Sight Media. Most of the previous signs advertised H&M, a Swedish clothing company. A federal court lawsuit filed last year by the sign company and owners of the Hotel is still active.
via Unwrapped: Illegal Supergraphic Ad Removed From Historic Hollywood Hotel.
Related posts:
Office Tenants Plagued by Series of Illegal Supergraphic Signs; Do the L.A. City Attorney and District Councilman Care?