This data comes from pipes.yahoo.com but the Pipe does not exist or has been deleted.
This data comes from pipes.yahoo.com but the Pipe does not exist or has been deleted.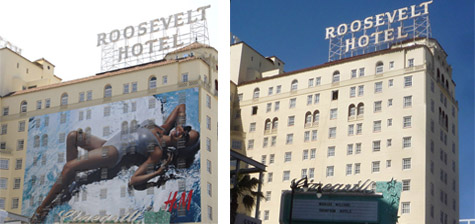 During his 2009 election campaign, City Attorney Carmen Trutanich promised to crack down on anyone putting up illegal billboards and supergraphic signs. Continuing to make good on that promise, his office has gotten the owners of the Hollywood Roosevelt Hotel to remove the latest in a series of illegal supergraphics that have covered the walls of the historic structure for the past four years.The sign removed advertised the Warner Bros. movie, "Clash of the Titans" and was installed last month by In Plain Sight Media. Most of the previous signs advertised H&M, a Swedish clothing company. A federal court lawsuit filed last year by the sign company and owners of the Hotel is still active.
via Unwrapped: Illegal Supergraphic Ad Removed From Historic Hollywood Hotel.
Related posts:
Office Tenants Plagued by Series of Illegal Supergraphic Signs; Do the L.A. City Attorney and District Councilman Care?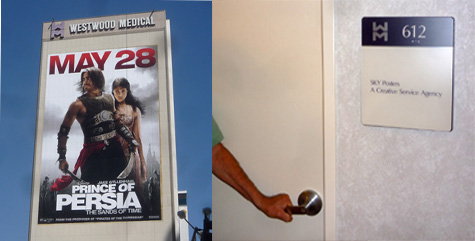 The supergraphic sign above for the movie "Prince of Persia" on a Westwood office building is legally permitted as an on-site sign, which the L.A. sign code defines as a sign directing attention to a product or service generally sold or offered on the premises where the sign is located. There is no movie theater in the Wilshire Blvd. building, or the offices of the movie production company, so how can the sign be considered legally equivalent to the sign on the local hardware store or dry cleaners?
For an answer, one most go back more than a decade, when Michael McNeilly (the self-proclaimed artist responsible for the giant statue of liberty images around the city) put one of the "Lady Liberty" images on the side of the building at 10921 Wilshire Blvd. He was charged by the city with putting up the supergraphic without a permit, as well as violating a local zoning prohibition on any such signs in the Wilshire corridor from Beverly Hills to Santa Monica.
While that case worked its way through the court, McNeilly changed the sign to one he claimed to be a memorial to the New York firefighters who died on 9/11 in the World Trade Center collapse. Again, he was cited by the city, and this time filed a lawsuit in federal court with the aid of the ACLU, which asserted that McNeilly's First Amendment right to free speech allowed him to erect the sign without city interference. Two years later, then L.A. City Attorney Rocky Delgadillo agreed to a settlement of that lawsuit that allowed McNeilly to keep signs on the 12-story wall of the building, as long as those signs fit the city's definition of "on-site" signs.
According to the settlement, only current tenants of the building with "bona fide office space" conducting "bona fide business" would be allowed to place messages on the signs. Furthermore, those tenants would have to provide proof to the city that they were conducting such a business by having an employee present during normal working hours.
Yesterday, we went to the office at mid-afternoon with a local community activist who has tried in the past to convince the city's building department that the various signs that have been put up on the wall do not comply with those requirements. On the sixth floor, there was an office with the sign, "Sky Posters, a Creative Service Agency" beside the door. (Sky Posters is one of the terms used by McNeilly, who is president of a company called Skytag, Inc.) The door was locked, and knocks went unanswered. We spoke to a woman who was going into the office next door, and she said that in the four years she worked there she had never seen anyone enter or leave the Sky Posters office.
As we've pointed out in previous posts, McNeilly is a fraud. He claims to be an artist defending freedom of expression when the obvious fact that he is an entrepreneur making millions by putting up supergraphic signs wherever he can find willing property owners and then suing to block enforcement of the city's ban on such signs. He has used one of the country's most revered images—the statue of liberty—as a placeholder for signs hawking movies, TV shows, and other corporate products.
In 2008, he put up a huge "Lady Liberty" image on the opposite end of the Wilshire Blvd. building, and then sued the city in federal court and succeeded in getting a judge to order a preliminary injunction protecting it from city enforcement. Lady Liberty is long gone, of course, and now a Nike Ad featuring a 10-story image of Kobe Bryant greets pedestrians and motorists navigating the single most heavily-trafficked intersection in the entire city of L.A.
Nike ad featuring Kobe Bryant on east end of building. Credit: Curbed LA
Based on statements by media buyers and ad agency professionals, advertisers pay upwards of $100,000 a month for supergraphics like that in those kind of locations.
The "Prince of Persia" supergraphic on the west end of the building, visible from the 405 freeway almost half a mile away, made news two days ago when Curbed LA reported that the building owner was speaking out against a proposed development across the street that would block some views of the sign, including the one from the freeway. A statement, perhaps, on how valuable those views are for a sign that is "on-site" in name only.
via How Was This Eight-Story Supergraphic Ad For a Movie Permitted as an "On-Site" Sign?.
The article below was just sent to me after a quick Facebook communication with
Eddie Colla
. Eddie's reasoning behind using the streets for his work is incredible and should be checked out
here
. The article, penned in 2007, juxtaposes San Francisco's history of political posters with what was at that time a rampant increase in illegal postering by our good friends at NPA. From what I understand, SF has been gaining more and more control of their illegal advertising issues through the hard work and dedication of a few people at the Department of Public Works, and other non-profits like
San Francisco Beautiful.
Proposition D, the privately crafted, pro-billboard measure was decisively defeated at the polls in November of 2009, and shows SF's continued interest in keeping its streets advertising free.
Commenting on the difference between corporate use of public space versus artistic use in the form of political and socially minded postering, Workman of SF beautiful says,
"I prefer that activist posters go up on a designated community board," and added, "but there's no way that one political artist can create as much visual noise as the corporate street teams who seem to transform a neighborhood over night."
To me this is always something we must refer back to when deciding who has access to public space. We want to see advertising leave the public environment, but this does not mean we want to limit the public's use of that space. This may seem hypocritical but it is not. Individual use of our public environment is a way for residents to communicate with one another. If those communications are put forth by individuals, they do not have the ability to overwhelm our public thoughts in the way that corporate advertising intends to.
VIA
El Tecolote
written by obynn Takayama, Nov 15, 2007
In the 1970s and '80s, political posters filled the Mission District's urban landscape. Juan Fuentes started making posters because he said it democratized art. "The power of art is its ability to distribute information. Poster making is more immediate than oil painting, which could take months to finish. So the message could reach more people, faster, with posters." [More Here]
VIA
Arrested Motion
Looks like one of the artists in the recently opened Manifest Equality exhibition decided NPA's illegal advertising needed better content. Arrested Motion was there to catch all of the action.
"As an added bonus,
AM
got the opportunity to accompany Manifest Hope/Equality artist
Eddie Colla
as he blanketed Hollywood with his Anti-Prop 8 propaganda. Check out the full pictorial recap of the show and the streets after the jump."
Oddly, I was not aware of Eddie Colla's work. They explain it like this...
"There is a visual conversation that takes place on the streets of urban environments. This conversation is dominated primarily by advertising and utilitarian signage and assumes passive participation. Whether invited or not I am going to participate in this conversation. Public spaces were never intended to be coated from top to bottom with photos of consumer products. These spaces should, in some manner, reflect the culture that thrives in that space.

Some people view what I do as vandalism. I assume that their objection is that I alter the landscape without permission. Advertising perpetually alters our environment without the permission of it's inhabitants. The only difference is that advertisers pay for the privilege to do so and I don't. So if you're going to call me anything, it is more accurate to call me a thief."
Friday night's arrest of Kayvan Setareh for allowing an 8-story supergraphic ad to be wrapped across three sides of an historic Hollywood building was not the first time the Pacific Palisades man has run afoul of the city's sign code, according to building department records. In January, 2007, a citation was issued for an illegal supergraphic on the building at 6777 Hollywood Blvd, and In November, 2006, citations were issued for a total of four illegal supergraphics on another building owned by Setareh at 5858 Hollywood Blvd. As reported by the L.A. Times, the arrest of Setareh followed concerns that because there was no inspection of the gigantic ad's attachment to the building it could come loose and cause injury to pedestrians and motorists in the busy street below.
via Owner Arrested For Hollywood Supergraphic Previously Cited For Sign Law Violations.
Our good friend Carolyn Tripp at
Illegalsigns.ca
asked us to answer some questions regarding the last NYSAT project that took place on October 25th. Yesterday they posted our
responses
.
Jordan Seiler and the many participants of
New York Street Advertising Takeove
r (NYSAT, a sister project of
PublicAdCampaign
) have completed yet another round of murals on top of the illegally posted billboards on the island of Manhattan in NYC. This campaign was largely in protest against NPA Outdoor, one of the city's largest contractor for billboards and large-scale advertisements. [
More Here
]
Remember these stupid door mats for Direct TV? They appeared about a year ago for a guerrilla marketing campaign and we never found out the responsible party. Just yesterday a reader sent us a few links about another "street mat" campaign that appeared recently on the upper west side of Manhattan.
In fact one of the links was to a
New York Times article
about the illegal advertisements. In the article Aaron Donovan, a spokesman for the
Metropolitan Transportation Authority
said
"It was "an unauthorized ad," he said, adding that another had been placed outside an entrance to the station at 79th Street and Broadway. Transit officials "reached out to the Beacon Theater" with a request to remove them, he said, although he said it was not clear whether "we took them out ourselves, or they did."
So who was responsible for the safety liabilities? Well the reader who contacted us had found that on the
CityEventions twitter page
they remark "
Our Banana Shpeel decals get a NY Times mention." This is funny cause they are coy about the whole thing on the CityEventions Facebook page where they seem not to know the culprit "
The Upper West Side now OFFICIALLY welcomes Banana Shpeel.. awesome decal. I wonder who put it there...?"
These tactics seemed reminiscent of another outdoor advertising company we take issue with in New York, City Outdoor, which is actually NPA City Outdoor. Sure enough on the CityEventions Facebook page they draw a connection when they talk about the "
Love it or Hate it Campaign
."
"This campaign was run for City USA this past summer. It showcases how City Eventions is able to team with City Outdoor and other City USA constituents, to pull off a killer campaign that integrates traditional and non-traditional advertising"
We then went to the
CityEventions website
and even more insanity popped up. Apparently they are responsible for a recent
dye-cut cutout campaign for Do Denim
. These life sized busts were simply strewn around the city, attached to construction awnings for passersby to run into. As we are faced with yet another guerrilla marketing campaign that is little more than abusive street art, the question of why we allow this type of corporate behavior and yet criminalize street art and graffiti resounds in my head. This question is particularly perplexing when you think that policing this corporate graffiti should take nothing more than a phone call to the offending company.